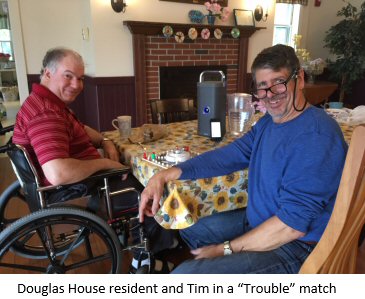 Tim's life and the lives of his family changed in an instant
Tim sustained a traumatic brain injury 10 years ago. His rehabilitation has included re-learning how to swallow, eat, read and write. He suffered two substantial setbacks during his recovery, including contracting un-diagnosed Lyme Disease. It has been a long journey and a lot of work but now Tim is active every day, including a part time job and volunteer work that keeps him busy.
Tim continues to use his background skills as an engineer in his part-time work at a grocery store where he bags groceries and performs occasional maintenance tasks. He also volunteers at the Lexington Senior Services Fix-it shop, where volunteers repair small household items for the community. The Fix-it shop team collaborates on repairs and will take on 'anything you need repaired.'
Visiting Douglas House is one of the highlights of Tim's week. This community is an integral part of Tim's new life, whether playing board games, working out, playing music or attending support group meetings.
"Supportive Living provides services that are not available elsewhere to Tim."
– Tim's wife, Ita
Tim enjoys playing Trouble with Douglas House residents and can often be found playing Backgammon with Jeremy in Rancatore's in Lexington.
Ita explains, "We are grateful for our Lexington community and for Douglas House."
Join Tim and Ita at the Genesis Battlegreen Run on November 4!
"Tim and I are proud to be part of Team Incredibles running the Battlegreen Run."
The Genesis Battlegreen Run is a walk/run fundraising event in Lexington which benefits Supportive Living's health and wellness programs. "We're both going to run the 5K," says Ita. "I'm sure we can cover the distance, but running that far will be a challenge."
"We ask your help in supporting this wonderful organization."