"Interning at the Neuro-Fit program with SLI has been an absolute delight, and I feel so very fortunate to have had this opportunity. As an exercise science student, the opportunity and prospect of exercising alongside others is always exciting to me, but this experience has been so much more than delivering exercise prescriptions and ensuring their proper execution. My time with the Neuro-Fit program with SLI has demonstrated to me the multimodal and integral role exercise and movement plays in life. "
– Emily, Exercise Science major at Simmons University
Students gain valuable, hands-on education and experience through Supportive Living internships by assisting brain injury survivors in health and wellness programs in one-on-one and group settings.  Most interns major in Health Science, Exercise Science, Nutrition, Neuroscience or Public Health.
Through the internship program students can:
Integrate theoretical information with practical experience in professional settings involving direct interaction as a member of a health care team
Gain experience to advance your own career planning and expand career potential
Provide a public service to individuals with brain injury
Acquire relevant hands-on experience for applications to professional programs in physical therapy, physician assistant, nurse practitioner and other graduate/professional programs
Integrate the content, skills and experience gained in health science courses and apply them to clinical and human performance problems while practicing independent, self-directed learning
Effectively access, understand and evaluate the primary literature in biomedical science and apply this knowledge to research/clinical situations
Interested in gaining hands-on, real-life experience in a Supportive Living internship?  See our Internship programs below.  You can also check out our 2017 Summer Camp photo album, where many summer interns shared experiences and fun as well as this video where Patrice shares some of her intern experience.
We are now accepting applications for the Spring 2023 Internship program.  Program dates are 1/17/2023 – 4/28/2023.
Intern Role: Assist with delivering a physical fitness program designed to improve the quality of life of survivors of acquired brain injury (ABI).
STUDENTS CAN APPLY FOR ONE OR MULTIPLE OF THE FOLLOWING LOCATIONS:
SLI Neuro-Wellness Center, 7 Oakland St., Lexington, MA

Monday through Friday (minimum of 2 days/week), 11:30am-4:15pm

SLI McLaughlin House Residence, 333 Park St, North Reading, MA

Tuesdays & Thursdays, 2:30pm-4:30pm

Lynch/van Otterloo YMCA, 46 Legs Hill Rd., Marblehead, MA

Tuesdays & Thursdays, 10:30am-1:30pm

 Andover/North Andover YMCA, 165 Haverhill St, Andover, MA

Tuesdays & Thursdays, 1:30pm-4:30pm

 Glen T. McLeod / Cape Ann YMCA, 7 Gloucester Crossing Rd, Gloucester, MA

Mondays & Wednesdays, 10:30am-1:30pm
Job Description:
Neuro-Fit provides long-term fitness solutions to brain injury survivors looking to stay healthy and active throughout their recovery. Neuro-Fit Interns work alongside the Neuro-Fit staff to create and implement individualized exercise programs. Interns receive rigorous training and education on brain injury in the context of exercise and continuous recovery. This position is ideal for students looking to practice and perfect their patient interaction skills while learning useful strategies for graduate school and a future career in the healthcare field. Interns will be hands-on, working with participants of the program, demonstrating, and administering exercises from their routines. Interns will also complete periodic projects to supplement the learning objectives of the internship.
Download the full position description, including qualifications here.
To apply for the internship, please send an updated resume and Spring 2023 weekly availability to Emily Willson, Neuro-Wellness Assistant Manager at ewillson@supportivelivinginc.org.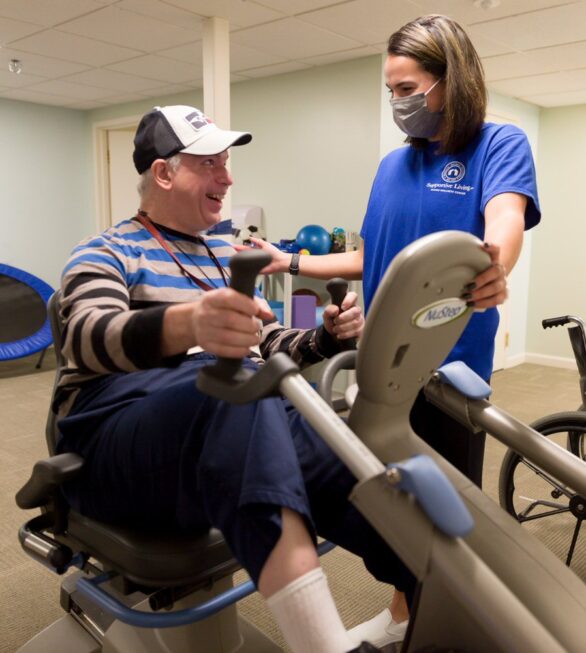 "This internship has changed the way I act and perceive life for the better. I learned what it takes to be patient and persuasive. Working with brain injury survivors requires these aspects more than anything I have encountered in the past, and working on improving these qualities has made me a stronger person."
– Henry, majoring in Health Sciences at Northeastern University
"Working closely with three different residents gave me a huge amount of inspiration. To see them push through and break down boundaries while exercising was an amazing experience. Although each person had some kind of limit, no one ever let that stop them and this proved a lot to me. It was truly encouraging."
– Brooke, a Psychology major at Franklin Pierce University
Supportive Living interns come from a variety of different backgrounds, majors and colleges and universities.