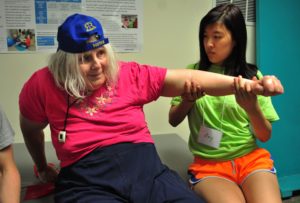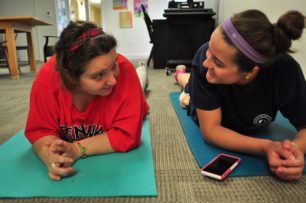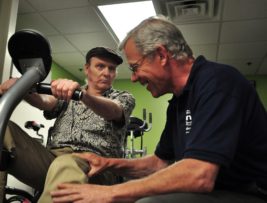 Fitness. Function. Fun.
A safe and effective exercise program plays an important role in the life-long brain injury rehabilitation process. Regular physical exercise helps individuals in many ways. SLI's physical fitness program has proven to improve functional abilities along with physical and mental health. SLI began this research based physical fitness programming in 2013, and continuously enhancing it. Over that period the positive results from the program have exceeded all expectation. According to one participant:
"I love it. It is what I've been looking for, for a long time, and it's adapted to what I need".
– Move! Assisted exercise program participant
Professionals evaluate participants before and after each 12 week session. We set realistic goals at the beginning of each session and monitor them throughout the period. Certified trainers experienced in physical fitness for people with brain injury oversee the program. In addition to these professionals, we operate a robust intern program that assures every participant has at least one person working with them the entire period. Program participants have seen benefits that include:
Enhanced functional abilities
Improved balance
Regained strength
Increased flexibility and dexterity
Positive changes in weight & blood pressure
Reduced stress
Improved cognitive  and social function
Reduced medical expense
Renewed self confidence
The Physical fitness program combines required aerobic activity with exercises designed to each individual's needs and goals. We offer these programs three days a week in 10 and 12 week sessions.
Location
We offer these programs at the SLI Brain Injury Wellness Center in Lexington, and at various partner sites in the metro north-west.  See Live Well Classes for our latest schedule.
Fees
Fees are minimal, and based on each individual's financial ability. Scholarships are available.