Old Farm Rockport (OFR) is an independent affordable housing facility for survivors of brain injury and cognitive/neurological disorders.
A cornerstone of SLI facilities is resident access to SLI Neuro-Wellness programs.
Located in Rockport, MA, OFR is a renovation of the Old Farm Inn at Halibut Point.
Resident Profiles
After completing a degree from Cornell, Nicholas R. eventually settled on filmmaking and, at 33 years old, had recently completed his first film, which he wrote, produced and directed.  On his way to a festival premiering his film, he struck his head after a fall and sustained a traumatic brain injury.
While Nicholas recuperated, his parents were thinking long term.  It was clear they couldn't care for Nicholas at home indefinitely but they could not find viable residential facilities appropriate for Nicholas.  So began a long term project that eventually brought the houses at Old Farm Rockport to life as SLI residential facilities.  When the facility opened in 2014, Nicholas was the first resident.
Get Nicholas' full story on page 4 of the Fall 2021 Newsletter.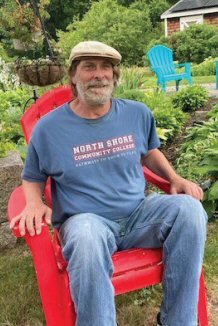 Viktor was one day shy of 16 when he was a passenger in a car accident where he suffered a severe brain injury. Viktor spent the next 39 years living with his mother in Gloucester. When his mom died in the fall of 2016 Viktor's family wondered where he would live. They did not want him in a nursing home but saw few other options. Fortunately, an apartment at Old Farm Rockport became available in 2017 and Viktor moved in.
Now you find him in the gardens, going to the hardware store with neighbors, playing chess, and attending day programs.  According to Viktor he is living in "paradise".  We're just happy he's happy.
"Moving Viktor to Old Farm was definitely the best thing that has happened to him, and has also taken a lot of worry off of his family's shoulders as he is in a beautiful and caring place."
– Viktor's Sister-in-law
Old Farm Rockport features
Four accessible bedrooms in the main building, Norwood House
Two accessible bedrooms in the adjacent building, Murphy House
Both buildings have a completely separate one-bedroom apartment on the second floor for residents without mobility limitations
Common areas include an open kitchen, TV room, an outdoor patio and deck.

OFR's main building, Norwood House, has four accessible bedrooms offering a home-like environment on the main floor. The adjacent building, Murphy House, has two accessible studio apartments on the main floor. Both buildings have a completely separate one-bedroom apartment on the second floor.
The property was transformed in a collaborative effort led by Old Farm Rockport, a non-profit organization formed by a group of North Shore families and friends of individuals who have been touched by the catastrophic effects of a brain injury. In addition to Old Farm Rockport, Supportive Living, an award-winning developer of independent housing for brain injury survivors, and Advocates, Inc., a provider of health care services for adults with multiple disabilities, provided their unique abilities in this effort.