Douglas House's central downtown location in historic Lexington MA is convenient to public transportation and provides residents with easy access to all the amenities of an active town center.
A cornerstone of SLI facilities is resident access to SLI Neuro-Wellness programs, with many programs hosted in the SLI Neuro-Wellness Center located within Douglas House.
Resident Profiles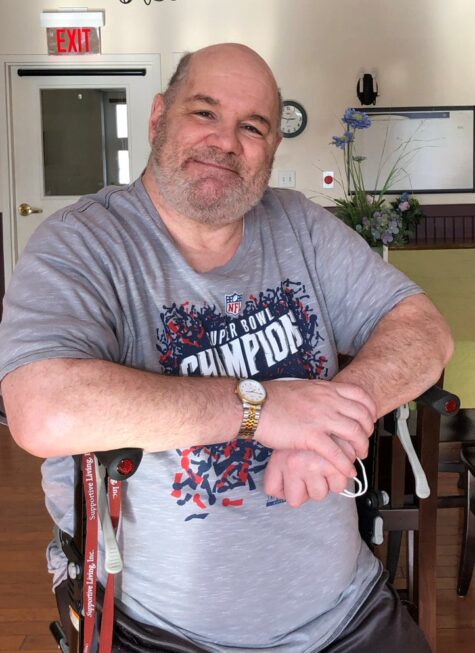 Tom G was 28 years old when a truck he was driving slid off a snowy road and hit a telephone pole.  He suffered a traumatic brain injury.  He spent years in the hospital and rehabilitation, and five years ago he started experiencing seizures which his Neurologist indicates are not unusual for a TBI sufferer like Tom.  Tom needed a higher level of care and thus began the search for a permanent living facility.
Tom moved into Douglas House in 2021 and is thriving.  He signs up for every possible activity, including cooking, Yoga, drumming, boxing and especially Neuro-Fit exercise.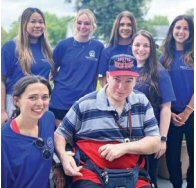 Steve A is known for his infectious smile.  He's not a talker but warms up to people instantly.  He was 18 years old, had just graduated from High School and was in a motorcycle accident that left him with severe injuries.  Besides a traumatic brain injury, he incurred serious injuries to his left leg.  After hospitalizations and years of rehabilitation, he was one of the first Warren House residents.
When leg surgeries left Steve with the need for an additional level of care, Steve moved to Douglas House where he is an enthusiastic participant in Neuro-Fit classes.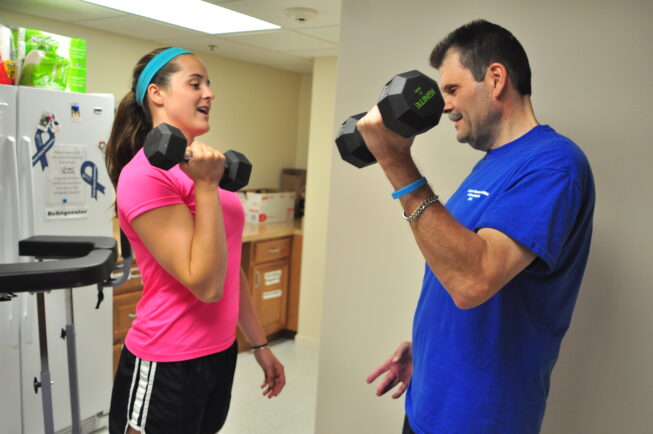 Don R. suffered a severe stroke at the age of 49. That stroke, along with other medical complications, caused Don's rapid decline and he was placed in a nursing home.  He was partially paralyzed and unable to walk or talk. "I thought I was going to die there," says Don.  Fortunately he slowly improved and, over the next few years, was able to regain enough strength to into Douglas House.
Soon after Don's arrival in Lexington he started the Neuro-Fit
program at SLI's Brain Injury Wellness Center.  From that point, Don's
improvement accelerated – and continues today.
Read more about Don in the Fall 2018 Newsletter.
Douglas House features:
15 studio-style units with private baths
Common areas include parlor, dining room, kitchen, TV room, an outdoor patio and deck.
In addition, Supportive Living accepts private payment for three of Douglas House's units.
In 2009, the town of Lexington received the Community Preservation Award for its renovation of Douglas House.