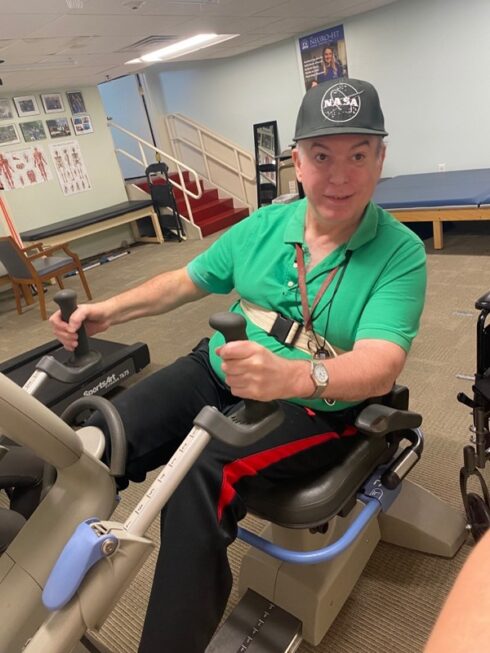 Steve Alibrandi is known for his infectious smile.  He's not a talker but warms up to people instantly.  He was 18 years old, had just graduated from High School and was in a motorcycle accident that left him with severe injuries.  Besides a traumatic brain injury, he incurred serious injuries to his left leg.  He was in a coma for 11 months and not expected to live.  "He fooled everyone," says his father, Joe.  After hospitalizations and years of rehabilitation, he was one of the first Warren House residents.   Because of the extent of his brain injury, his earliest care didn't attend to his leg injury, something that would haunt him for years.
One of Steve's rehabilitation centers was Crotched Mountain Rehabilitation in New Hampshire, where he received excellent care.  "They had him walking with a walker, swimming, and doing scuba.  Their pool has a raisable platform that's great for rehab," says Joe.  They also put Steve on a strict diet which did great for his overall health.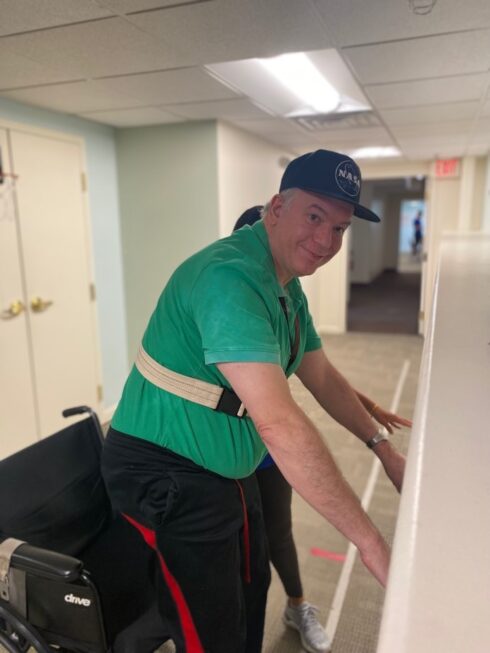 But Steve's leg injury continued to plague him.  It started swelling when he was later confined to a wheelchair, although exercising on a stationary bike helped reduce it.  "They operated on his foot," says Joe, "and he has a lot of metal parts in it."  His most recent surgery cut his leg so it would align with his foot.  Needing an additional level of care, Steve moved to Douglas House.
Steve is an enthusiastic participant in Neuro-Fit classes where he works with staff and interns on strength and coordination exercises to help him be more independent despite his left side weakness. Steve's recent goals have been to sit up unsupported and stand for longer periods of time. By strengthening his core and postural muscles, he can more easily get out of bed and transfer in and out of his wheelchair.
"Steve has made significant improvements in the past year, especially in his strength and motor control, to where he is now up and walking with assistance," says Lindsay Weir, Neuro-Wellness Manager.  "We have consistently increased the weight and resistance in his exercise program to make it more challenging for him. He is always determined to improve his performance."
Since Steve spends most of the day seated, he likes to use the NuStep for endurance and stamina.  He fondly refers to the NuStep as "the push-pull machine" because of the movement the machine has him complete.  With the help of the adaptive equipment, he completes 2.5 hours of cardiovascular activity a week. As a big sports fan, Steve also plays basketball, soccer, and football in his Neuro-Fit sessions to get his heart rate up.
"Exercise is my favorite part of the day" says Steve. The Neuro-Fit interns love working with Steve because he always has a joke or funny story to tell. He shows up to exercise with a positive attitude and loves to stay active. His determination has allowed him to continue to make strong functional improvements.