Paul retired from full-time work in 2016 as an Endoscopy RN at Massachusetts General Hospital where he worked for 39 years.  He loved his work and continued with MGH for 3 days per month even after retirement.  In 2018 his life took a tragic turn when he suffered a hemorrhagic stroke which left him with left side paralysis.
"Before his stroke Paul was very active," says Paul's wife Jeanne.  "He rode the Pan Mass Challenge multiple years, we travelled a lot, he was a Boy Scout leader and heavily involved in Masons serving as a District Officer.  Neither of us just sat still."  While Paul retained most of his cognitive function after his stroke, he didn't walk for seven months.  Jeanne and Paul knew he would only improve if active, and they tried various therapies and specialist gyms, including the Spaulding Rehabilitation program, where he continues in the Cycling programs (and continues now as a virtual Pan Mass Challenge rider).  Spaulding was where he found his strength to continue to live a new normal.
"Some programs outside of Spaulding had the equipment, but they didn't have 1-1 trainers, which Paul required," continues Jeanne.  "So I was helping him.  But then I broke my hip and couldn't do it."
Yoga instructor Urvashi Chogle suggested Paul try Neuro-Fit and he has never looked back.  "We love Neuro-Fit," says Jeanne.  "This program is great.  The trainers are talented, enthusiastic and smart.  In these programs it's really about the person exercising, and they focus on that.  But it's also good for Paul to be out with people.  He's made friends in the program and looks forward to going."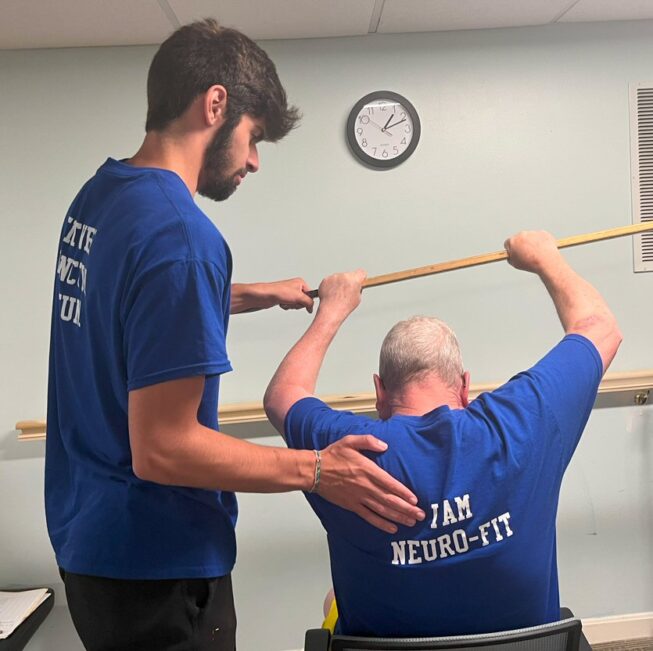 Paul's experience at Neuro-Fit shows how collaborative the program can be.  As someone highly motivated to exercise and improve, Paul is involved in designing and implementing his exercise routine. "We work closely with Paul and constantly discuss his goals and get feedback to determine the best course of action," says Lindsay Weir, Neuro-Wellness Manager.  "Neuro-Fit staff and interns like to emphasize that although we offer assisted exercise, we still want to maintain each person's independence, which includes decision-making.  Paul is an avid cyclist and often does adaptive cycling.  So we focus on lower body strengthening on his affected side.  He recently indicated that he can now use less support from leg braces when cycling, which improves his confidence and enjoyment of his favorite activity.  Paul's dedication to his recovery and close communication with his interns has consistently improved his strength, endurance, and walking. "
After Paul's stroke his health care providers discovered that Paul also suffers from Cerebral Amyloid Angiopathy (CAA), a condition in which proteins called amyloid build up on the walls of the arteries in the brain.  CAA causes bleeding into the brain (hemorrhagic stroke) and dementia.  He suffers from balance issues and fell multiple times immediately after his stroke.  But strength and balance training have helped Paul, and he hasn't fallen in over 2 years.
"Neuro-Fit is Paul's primary physical activity, so it's important to him," says Jeanne.  He works out on the treadmill, NuStep and recumbent stepper.  His favorite exercise is a simple one – holding a stick over his head which helps with arm strength and balance.
"You don't sign up to be a caregiver," says Jeanne.  "You become the one who cares and advocates for the person, and you are the head cheerleader for recovery. It is difficult at times, but you do what must get done.  We are married 49 years, retired and spend time with our family including three grandchildren. Life goes on, not maybe the way we had planned, but we do what we can together.  I continue as the Stoneham Town Moderator and continue to be active in as many town events as possible.  Paul does require continuous care, but fortunately we have a great support system with our family & friends. Neuro-Fit is great for Paul and is a real relief for me.  I can drop him off, know he's in good hands and safe. I use that time to relax, run an errand or just sit by the gardens! "