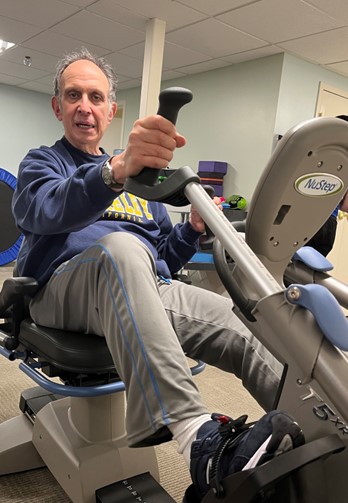 Les Perelman, Ph.D. is passionate about writing composition.  He retired in 2012 after twenty-six years of teaching and administration at the Massachusetts Institute of Technology, serving as an Associate Dean of Undergraduate Education and Director of Writing Across the Curriculum.  After retirement he remains active in scholarship and professional organizations, consulting on college-level writing programs at Harvard, Emerson College, and DePauw University.
"I'm still fighting," says Les.  "My big issue is using computers to grade writing.  At MIT my students and I invented BABEL.  You give it a few words and it generates completely incoherent prose to which the Automated Essay Scoring (AKA Robo-grading) algorithms consistently give a high score.  The testing companies don't much like me."
Les was diagnosed with Parkinson's disease in 2018.  "My doctor sensed something, but at the time I was consulting with the New South Wales Teacher's Federation on national education assessments, so I waited for the tests until I returned from Australia.  I was diagnosed with Parkinson's at the same age as my father got Parkinson's, and I watched him decline through the years with the disease."
"In the black humor around Parkinson's, people call it the disease that keeps on giving," says Les.  "It's a degenerative disease.  You can't stop it.  At best you can delay the onset of symptoms."  So Les is enthusiastic and aggressive about exercise, which has been shown to delay Parkinson's symptoms.
Les has been involved in various Parkinson's-specific exercise programs since his diagnosis but discovered Neuro-Fit this year.  "I feel like the Neuro-Fit program has been a real improvement for me.  The way Lindsay (Neuro-Wellness Program Manager) and the team customize the program to my needs is really effective.  It has stabilized my symptoms, and with Parkinson's, staying the same is good."  He works specifically on building strength and balance.  "My P.C. said, 'whatever else you do, don't fall.'"
Les also loves Rock Steady Boxing.  "I didn't think I'd like boxing," he says.  But Les has taken to the boxing program at SLI in the Neuro-Wellness Center.  "It's one of the best workouts I've ever had."
Continuing to exercise is important to Les.  "I know I can't stop the progression of Parkinson's, but I can slow it down.  I'm now doing Neuro-Fit three times a week, including boxing on Wednesdays, and I have found a location for the boxing program for the other two days so I can exercise five days a week."