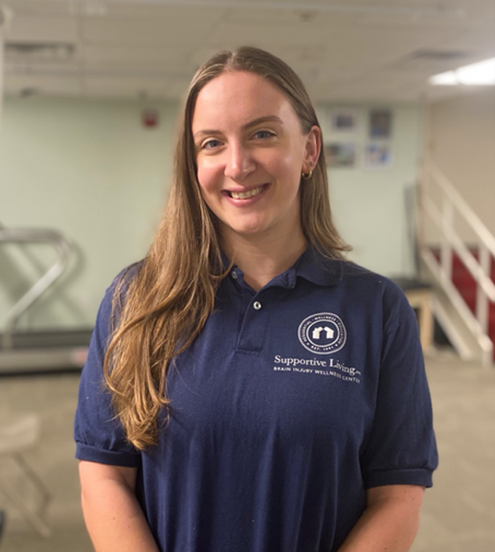 Lindsay Weir, MS, CIFT: Neuro-Wellness Program Manager
Lindsay started at SLI in 2020 as a Graduate Fellow, working with the Neuro-Fit Assisted Exercise Program. She graduated from Merrimack College in 2021 with a Master of Science in Exercise and Sports Science. She also received her Bachelor of Science in Human Physiology from Boston University in 2019. Lindsay is an ACSM Certified Inclusive Fitness Trainer (CIFT), which allows her to specialize in exercise programming for a wide range of populations including brain injury and beyond.
Lindsay is an adjunct professor at Endicott College, instructing a course on Exercise for Special Populations. The course covers a wide range of chronic conditions and diseases and students learn how to properly evaluate, progress and improve the physical fitness of each population. Endicott is an essential academic partner for SLI. Many students from the School of Sports Science complete their semester-long experiential learning opportunity with the Neuro-Fit program.
Along with working in community recreation and wellness, Lindsay has worked in neuro and orthopedic rehabilitation in both private and public clinical settings. She also has many years of volunteer experience, focusing on food insecurity and public health concerns in the Greater Boston Area. Lindsay is passionate about exercise as medicine and has focused her career on helping vulnerable populations exercise safely and effectively. She looks forward to a future where individuals with disabilities can reach their highest level of wellness without discrimination or setbacks. Through her work at SLI, she helps make this vision a reality by improving our wellness programs for residents, community members, and staff.