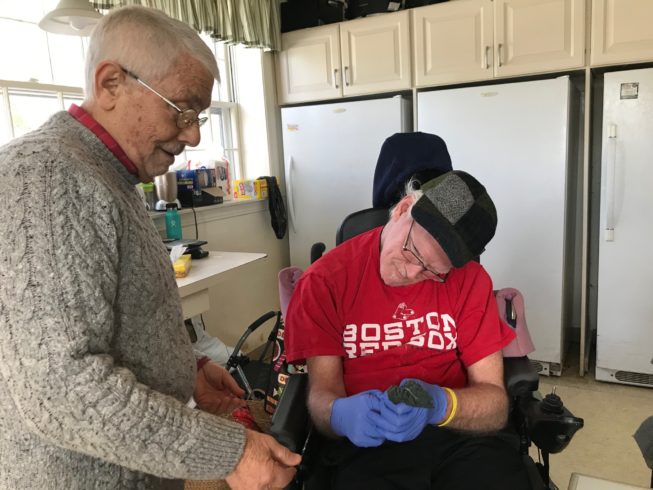 For retired lawyer and Lexington resident Howard Cloth, joining the Healthy Cooking Group at Douglas House was a perfect fit. A great opportunity to combine his love of cooking with a passion for volunteerism and connecting with people.
Howard's daughter Ali, an educational psychology professor at the University of British Columbia, was hit by a car in 2015 while in a crosswalk in Vancouver.  Ali suffered a traumatic brain injury and was put in a medically induced coma. Her recovery surpassed all expectations due in large part to a new field of brain chemistry microdialysis in use at Vancouver General Hospital. It allows frequent monitoring of a patient's brain-tissue chemistry and real-time monitoring of oxygen and blood pressure via a hollowed-out bolt in the brain which permits the delivery of meds with doses tailored to a patient's condition vs. standardized doses. VGH is one of only a handful of hospitals around the world using the revolutionary procedure.
Ali was out of the hospital and into rehab after only 6 weeks. She was able to go home just 4 months later. After several years, Ali was able to resume hiking and biking. Though she feels like "only 75% of her old self" and is subject to fatigue, she returned to teaching at UBC in September 2019. Howard is grateful for Ali's recovery and the excellent care she received.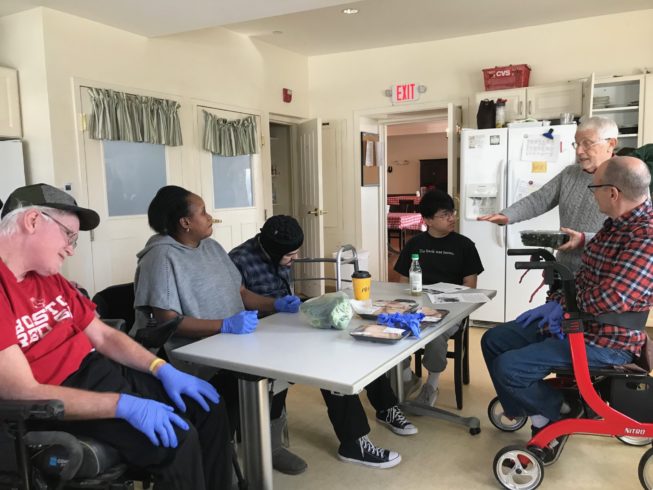 When he heard about Douglas House from his friend Gary Fallick, who served on the committee for Supportive Living's recently completed Capital Campaign, Howard knew he wanted to volunteer and 'pay it forward.' Howard explains, "when you volunteer you make the world a better place. You give but you get more back." Howard learned about the Healthy Cooking Group which meets several Fridays a month and includes Douglas House residents as well as people affected by brain injury from the community.
An accomplished home chef with stints on local cable TV, Howard finds cooking relaxing and a wonderful way to support wellness goals. For the Douglas House Healthy Cooking group, Howard selects a range of healthful and delicious recipes and considers the group's important role in preparation.  Participants slice, dice, mix and stir. Howard is quick to note if a little adaption is in order. He recently purchased a tomato slicer when he noticed holding the tomato steady while slicing was tricky. The group has prepared and enjoyed several dishes recently including steamed sesame and lemon broccoli, turkey burger sliders, raw butternut squash slaw, and swordfish steaks with leafy greens salsa verde.
You can check out Howard's blog for healthy cooking recipes and tips here Waisting Away…in Nutritionville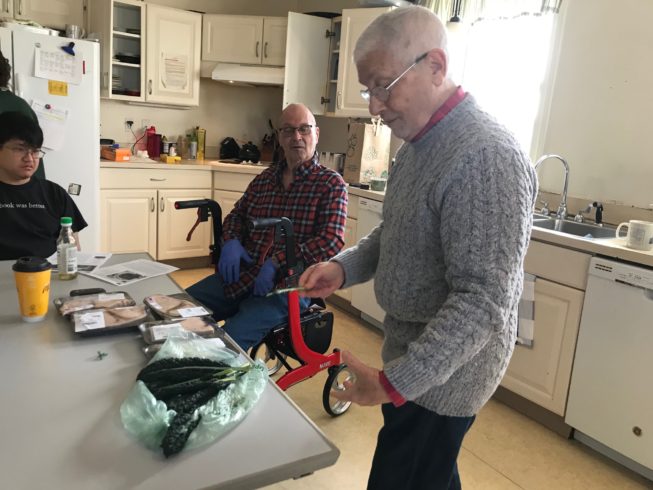 In addition to volunteering at Douglas House, Howard walks 25 miles per week. For 20 years he participated in the Boston Marathon Jimmy Fund Walk and the Walk for Hunger. He also serves on a Lexington Town Committee and is a member of Lexington At Home, a volunteer social support and resource network for seniors.
When Howard sees his friends from the cooking group in Lexington Center, he stops to say hello and chat.  Howard knows that people sometimes worry when meeting a Douglas House resident, "what do I say" or "what if I don't understand them." Howard explains, "I'm not concerned with being uncomfortable. Even if someone's speech is difficult, you can see in their eyes and smile that they are getting it. Just be open and listen."
Howard is one of the wonderful Supportive Living volunteers that make a difference. Interested in learning more about volunteer opportunities?  Click here: Volunteer info